Max Klinger's Brahms Fantasy Opus XII, which we present here in digital format, is a unique form of artistic convergence. It is a bound book, produced for individual enjoyment in limited editions of five copies and then 150 copies. Inside the book, graphic images appear in dialogue with musical scores for five songs and the Schicksalslied (Song of Destiny) op. 54 for chorus and orchestra by Johannes Brahms. The graphic images are not illustrations; they are, as the title indicates, independent fantasies on the music and texts.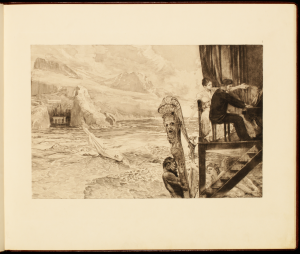 This digital presentation includes high-resolution images, the song texts with translations, and audio files with performances of the songs. The viewer is encouraged to explore all the media in combination: to read, look, and listen.
The Brahms Fantasy is a technical tour-de-force with 18 intaglio prints and 23 lithographs. The intaglio prints combine every possible technique — etching, engraving, drypoint, soft-ground etching, aquatint, and mezzotint — to achieve the most dramatic range of both line and tone. Klinger himself felt that prints and drawings left more room for the imagination than painting. It was a form of indeterminacy that he was after, much like the indeterminacy of Brahms's music.
Klinger and Brahms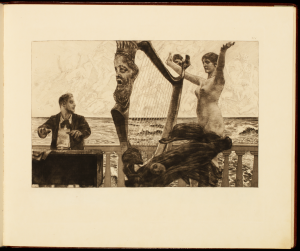 Johannes Brahms (1833-1897) was a generation older than Klinger, a composer of instrumental music, songs, and choral works who combined prodigious talent and musical imagination with virtually unmatched craftsmanship. He was seen in the later 19th century as an upholder of tradition, a powerful voice against Wagner and the "New German School." The music of the future according to Wagner would combine sound, poetry, and dance, recreating a unity that was once torn asunder and unifying the receptive soul of the German nation. For Brahms and his followers, music itself, sounding form in motion, could reach towards the infinite and the depths of human subjectivity. This historical dispute may obscure the fact that Brahms himself was interested in other arts, especially poetry and painting. Brahms admired the works of Anselm Feuerbach, Arnold Böcklin, Adolf von Menzel, and Max Klinger. Brahms in fact felt there were deep affinities between the arts, in spite of their different media and modes of reception.
Max Klinger (1857-1920) was one of the most renowned German artists of his generation. He as a painter, sculptor, and printmaker as well as a devoted amateur pianist. Whereas artists and writers throughout the 19th century were inspired by the idea of music, that most quintessentially "Romantic" of the arts, Klinger had specific musical loves: Beethoven, Schumann, and especially Brahms. He kept a piano in his studio and presented his graphic cycles with musical "Opus" numbers. He sent Brahms a printed collection of poetry with his engravings in 1877, dedicated his graphic cycle Amor und Psyche Opus V of 1880 to Brahms, and prepared title pages for Brahms's song collections op 96 and 97, published in 1886. Klinger began work in the Brahms Fantasy in 1888 and Brahms received the completed work in January of 1894.
Read more in the Introduction page.